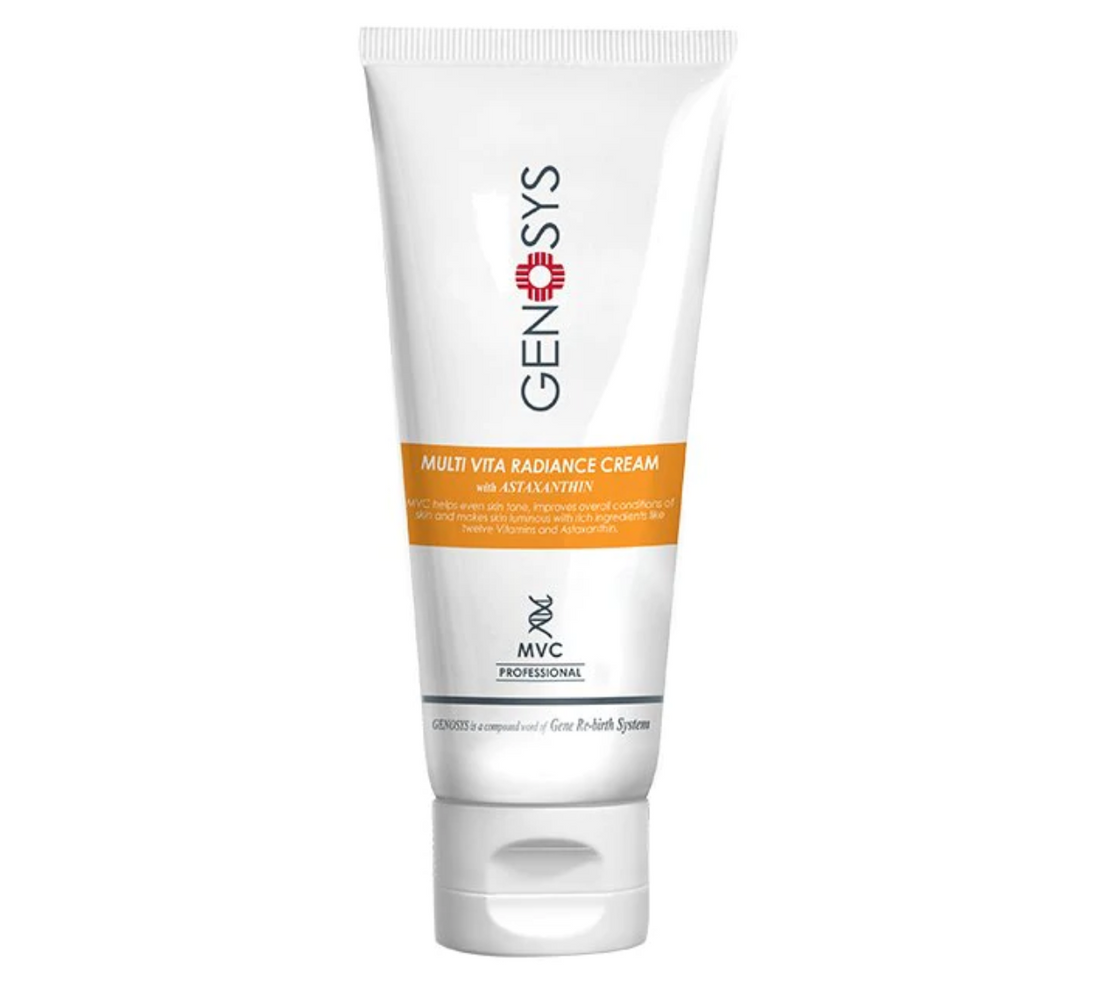 Genosys Multi Vita Radiance Cream
Genosys Multi Vita Radiance Cream helps even skin tone, improves overall conditions of skin and makes skin luminous with rich ingredients like twelve Vitamins and Astaxanthin. It helps improve skin pigmentation by acting on each step of pigmentation process.
Benefits
Skin brightening
Antioxidation
Moisturizing
Key Ingredients 
Astaxanthin: It is a powerful antioxidant known to be 6,000 times stronger than Vitamin C in antioxidant power. It helps prevent abnormal skin pigmentations caused by free radicals and sun exposure by reducing photodamage and acting as an internal sunscreen.
VITA 12 Complex: It provides nutrients to skin and protects skin from free radicals. It also helps increase collagen production and prevent skin water loss. (Vitamin A, B1, B3, B5, B6, B9, B12, C, E, F, H, k)
Gluconolactone: PHA (Poly-Hydroxy Acid), It improves skin tones by exfoliating dead skin cells much more gently than other acids. It also hydrates skin by attracting water to the skin.
Glycyrrhiza Uralensis (Licorice) Root Extract: It inhibits pigmentation by preventing tyrosinase activation. It prevents permanent discoloration, brightens and improves skin tone.
Macadamia Ternifolia Seed Oil: Linoleic acid in the oil prevents trans-epidermal water loss and creates a natural protective barrier. Palmitoleic acid in the oil is beneficial for wound healing, scratches and burns. And phytosterols calms and heals itching and redness.
Ascorbic Acid: Vitamin C, It is a naturally occurring antioxidant that protects skin against UV-induced damage caused by free radicals and it inhibits the enzyme tyrosinase, which helps to prevent melanin production.
Ceramide NP: As a major epidermal intercellular lipid component, it reinforces the skin's natural protective lipid barrier and improves long-term moisturizing. Modification or deficiency of ceramide in the lipids may impair these properties; atopic dermatitis, psoriasis, contact dermatitis, and some genetic disorders.
Apply the product on the face and gently massage in the morning and evening.