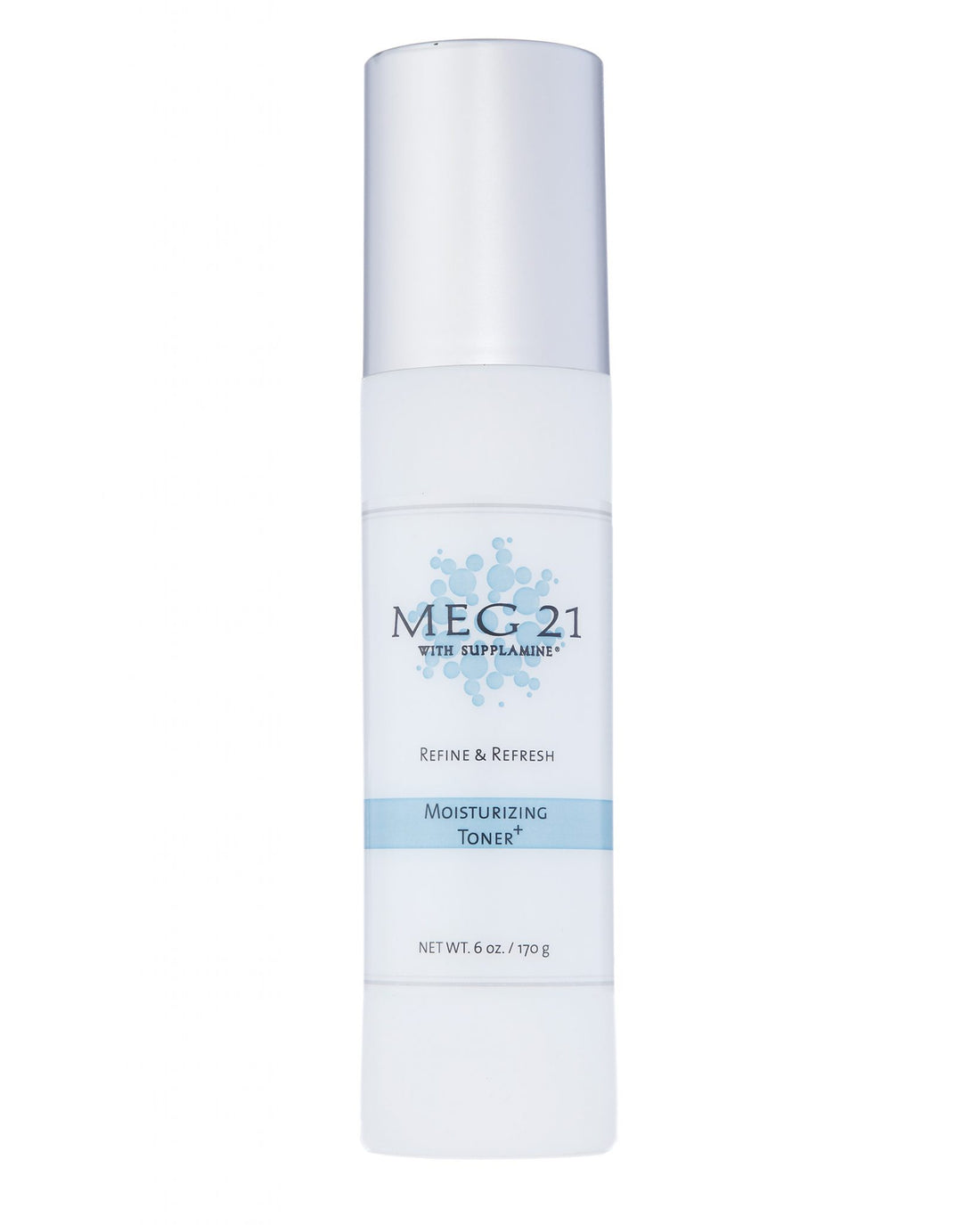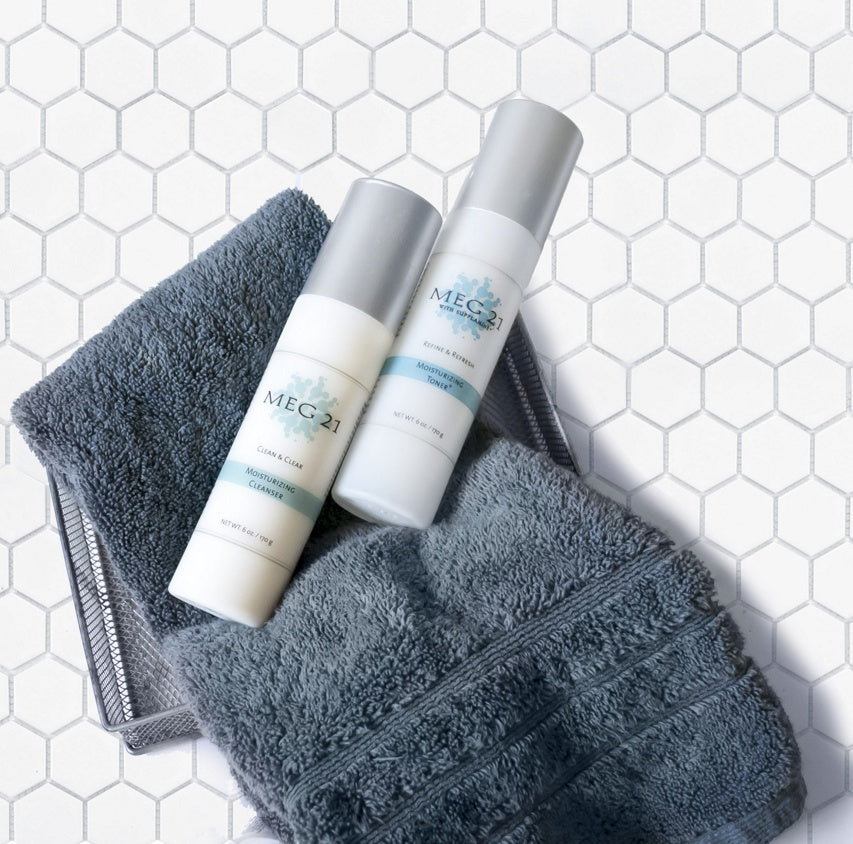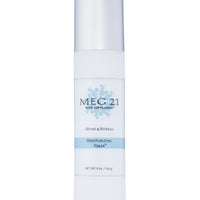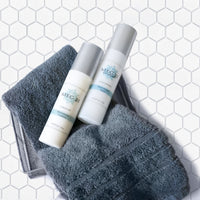 Meg 21 Moisturizing Toner
MEG 21 Moisturizing Toner + is like no other. This perfect synergy of clinically proven Supplamine® and antioxidants removes toxic sugars from skin. It protects against the effects of skin aging and wrinkling, balances, moisturizes, and soothes skin, and removes dead skin cells and irritants, while penetrating deeply for long-lasting protection. It heals skin damage, leaving skin smooth, radiant, moisturized, nourished, and refreshed.
Non-irritating. Alcohol-free. MEG 21 Toner+ truly is toner plus!
Benefits
MEG 21 Moisturizing Toner+ combines Supplamine with a low dose of mild fruit acid to open and clean pores, leaving skin smooth and radiant.
Frequent use of MEG 21 Toner + during the day accelerates cellular repair, removes dead skin cells and irritants, and achieves deep penetration for long-lasting skin protection.
Infused with sodium hyaluronate to maintain moisture, multi-fruit acids for gentle exfoliation, trinity-tea complex to fight free radicals, arnica to reduce irritation, and calendula to soothe and heal skin.
Apply with other MEG 21 products for greater penetration and optimal results.
Alcohol-free and non-irritating.
Key Ingredients
Supplamine: Patented ingredient to intercept and reverse glycation, inflammation and metabolic oxidation caused by 3DG sugars in the skin
Arnica Flower Extract – Anti-Inflammatory
ATP (Adenosine Triphosphate) – Energy source within the cell to drive a number of biological processses such as protein synthesis
Bilberry Leaf Extract – Source of flavonoids and antioxidant
Calendula Flower Extract – Antioxidant and anti-inflammatory
Cranberry Extract – Source of polyphenol and antioxidants
Glycerin – Found naturally in skin that attracts and retains moisture to help maintain barrier function
Hyaluronic Acid – Humectant that attracts and binds 1800x its weight in water
Green Tea – potent antioxidant and anti-inflammatory
Lemon Peel Extract – Skin conditioner and tyrosinase inhibitor
Orange Fruit Extract – Antioxidant and anti-inflammatory; can help stimulate collagen and reduce puffiness
Vitamin B – Essential for healthy cellular function of proteins
Water, Propanediol, Hamamelis Virginiana (Witch Hazel) Distillate, Glycerin, Sodium Hyaluronate, Camellia Sinensis Extract, Arnica Montana Flower Extract, Vaccinium Macrocarpon (Cranberry) Fruit Extract, Algae, Calendula Officinalis Flower Extract, Porphyra umbilicalis/Porphyra umbilicalis Extract, Vaccinium Myrtillus Fruit/Leaf Extract, Saccharum Officinarum (Sugar Cane) Extract, Acer Saccharum (Sugar Maple) Extract, Citrus Aurantium Dulcis (Orange) Fruit Extract, Citrus Limon (Lemon) Extract, Lavandula Angustifolia (Lavender) Oil, Citrus Tangerina (Tangerine) Oil, Acetyl Tyrosine, Proline, Hydrolyzed Vegetable Protein, Adenosine Triphosphate, Panthenol, Allantoin, Bis-PEG-18 Methyl Ether Dimethyl Silane, Lecithin, Acrylates/C10-30 Alkyl Acrylate Crosspolymer, Alcohol, Methylglucamine, Sodium Lactate, Sodium Citrate, Citric Acid, Polysorbate 20, Disodium EDTA, Triethanolamine, Phenoxyethanol, Caprylyl Glycol.
After cleansing with MEG 21 Moisturizing Cleanser, apply MEG 21 Moisturizing Toner+ directly to clean, dry skin and allow to absorb fully. MEG 21 Moisturizing Toner+ can be sprayed directly on skin and gently patted dry with a cotton pad; or it can be sprayed on to non-woven gauze. Use as a facial treatment prep to degrease, gently exfoliate, and encourage product absorption. Also use as a touch-up during the day or for a refreshing bounce to the skin at any time.