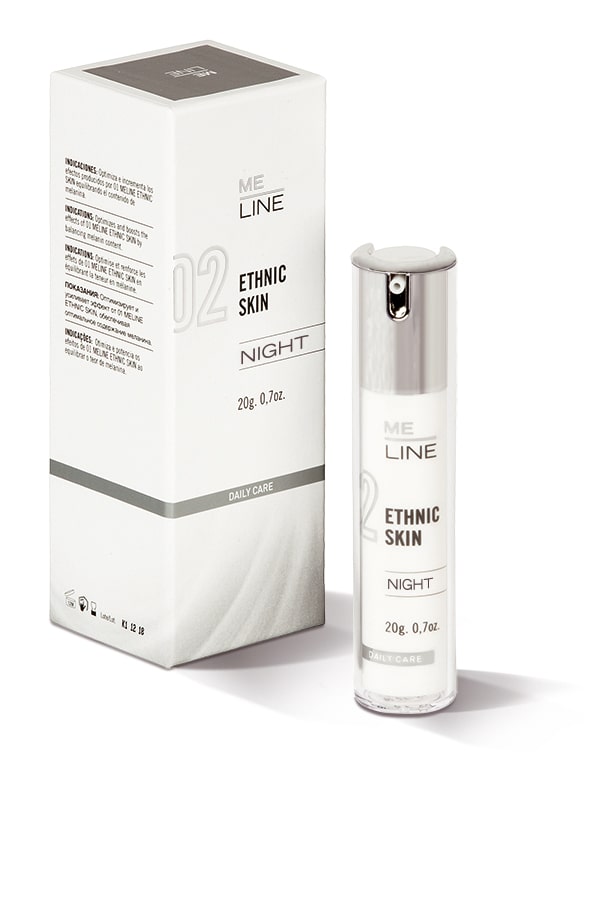 Meline 02 Ethnic Skin Night
Depigmenting night-use emulsion for phototypes IV-VI. Improves and delays the appearance of pigmentation in skin - phototypes IV - VI.  Inhibits tyrokinase enzyme expression, in turn inhibiting melanin synthesis.
Its ingredients effectively reduce the mRNA synthesis required for tyrosinase production, which when stopped, reduces melanin synthesis too. They also block melanosome release, along with clearing and homogenising the pigment.

Use for product for at least 90 days for best results.
Mandelic Acid, Ascorbic Acid, Arbutin, Melanostatine, Niacinamide, Magnesium Sulphate, Retinal.
After cleansing the facial skin, apply a thin layer over the entire skin, massaging it in until fully absorbed. In case of irritation, use every other day for two or three weeks, before continuing to apply it daily.